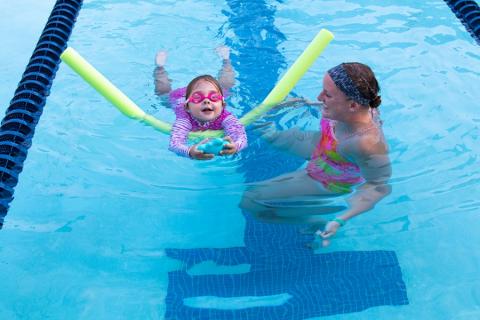 Group, semi-private and private swim lessons are available for adults and children ages 3 and up.
Lessons are held at the Swasey indoor pool.
Summer 2021 Update
---
The University of New Hampshire has made the difficult decision to cancel in-person, on-campus youth programs in Summer, 2021.

The decision was made after careful review of available staffing, COVID-19 health and safety requirements, and the significant work required over the summer to ensure the university can open fully for the fall semester.

We regret any inconvenience this may cause for family summer planning. We truly appreciate your interest in Campus Rec programs and hope you will find suitable alternatives for a wonderful summer experience.
Group swim lessons are offered for kids ages 3 - 13 in 3-week sessions on Tuesday & Thursday evenings.
Register for group lessons
 
Private swim lessons are available for adults or children that need individual attention, have special needs, learn better in a one-on-one environment, or have special scheduling needs.
Learn about private swimming lessons
 
Semi-private lessons (with 2 participants) are available. In order to sign up for semi-private lessons you must already have another participant to sign up with. Lessons with 3 or more participants cannot be arranged through the private lesson program.
Learn about semi-private swim lessons
 
Additional information