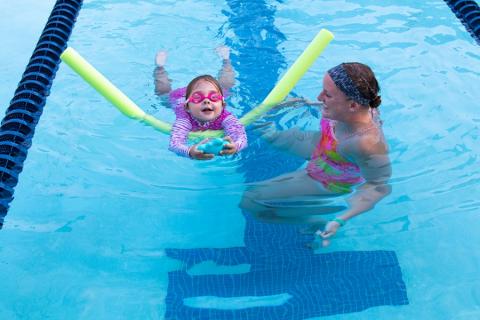 Group, semi-private and private swim lessons are available for adults and children ages 3 and up.
Lessons are held at the Swasey indoor pool.
Covid-19 Update
---
We appreciate your patience and understanding during these uncertain times. The health and safety of our youth program participants and staff is our priority. In response to the COVID-19 situation, UNH administration has canceled all external on-campus events and programs for the Fall 2020 semester. This includes fall semester youth programs and events. 
Group swim lessons are offered for kids ages 3 - 13 in 3-week sessions on Tuesday & Thursday evenings.
Register for group lessons
 
Private swim lessons are available for adults or children that need individual attention, have special needs, learn better in a one-on-one environment, or have special scheduling needs.
Learn about private swimming lessons
 
Semi-private lessons (with 2 participants) are available. In order to sign up for semi-private lessons you must already have another participant to sign up with. Lessons with 3 or more participants cannot be arranged through the private lesson program.
Learn about semi-private swim lessons
 
Additional information