This summer venture out of the routine of everyday life and dare to be adventurous! UNH's summer and vacation camps offer many extraordinary opportunities for grades 1 to 9.
Summer 2021 Updates
---
The University of New Hampshire has made the difficult decision to cancel in-person, on-campus youth programs in Summer, 2021.

The decision was made after careful review of available staffing, COVID-19 health and safety requirements, and the significant work required over the summer to ensure the university can open fully for the fall semester.

We regret any inconvenience this may cause for family summer planning. We truly appreciate your interest in Campus Rec programs and hope you will find suitable alternatives for a wonderful summer experience.
Campers will have a chance to explore nature and the environment, participate in sports, learn new skills and crafts, make new friends, and have fun while being active this summer!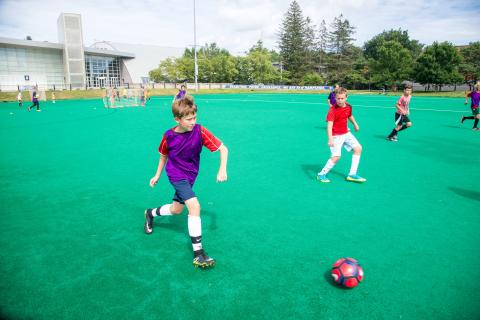 The primary aim of the University of New Hampshire Community Sailing Centre Program is to have fun on the water, make new friends, build self confidence all the while teaching skills that are at once gratifying and enjoyed over a lifetime.
Kool 2B Fit Camp provides an opportunity for youth to engage in a variety of fitness activities ranging from fitness activities, adaptive sports, swimming, Zumba, rock climbing, hiking, and team games!
Registrations for trips, classes, certifications, lessons, birthday parties, academic year youth programs and any other Campus Recreation programs are non-refundable.  If unable to attend and Campus Recreation is provided a minimum of 7 days notice, a credit will be made available for a comparable program within the same academic or fiscal year.  If Campus Recreation cancels a program, full refunds will be given.