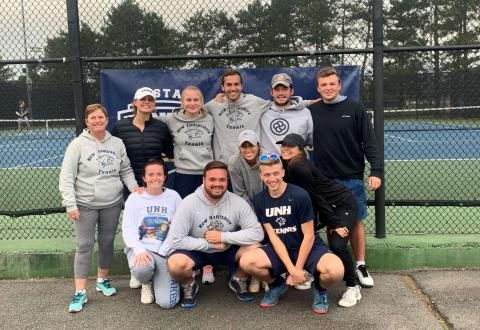 The UNH Club Tennis Team is a competitive co-ed club sport team part of UNH Campus Recreation.  The team is comprised of 30 players, 15 men and 15 women.  The team practices three to five times a week during the school year, and also plays indoors at the Seacoast Sports Club in Newmarket, NH.  
The team travels to compete in many tournaments, around six each semester, including the New England Championship, which is a two day event in which we compete against 17 other teams to earn a bid to the National Championship in Surprise, AZ.  We also play in the Arizona Invitational in Tucson, AZ in April, and host several of our own tournaments throughout the year.
Besides tennis, the team volunteers time to give back to the community by helping the Cornucopia Food Pantry just before Thanksgiving and putting on open tennis clinics to both the UNH and Durham community.
Email: unhwildcatstennis@gmail.com